Home is where the heart is, and a kitchen is the heart and soul of a home. It is not only a place to cook and serve food but over time a beautiful kitchen becomes the hub of a family. Good food and quality family time are crucial for the well-being of a family, so it is no debate that a space that makes good memories should be as lively as the rest of the home. And nothing says beautiful and cozy like a modular kitchen.
What is a modular kitchen, and how is it different from a traditional kitchen?
Well, a modular kitchen is a ready-made kitchen designed for a particular space and look. It can be dismantled to carry over to a new home and may prove to be just as functional in the new residence. It comprises of different, functioning parts and storage areas as 'modules' and hence the name.
The significant difference between a modular kitchen and a traditional kitchen is that a modular kitchen doesn't require months of deafening noise and dust that comes with carpentry or civil construction work inside the home. Once ordered, it can be installed like a simple furniture piece within a few weeks, including the planning and design process. With proper care and handling, this small kitchen lasts you for as long as 10 years. Moreover, a modular kitchen is highly modern, sophisticated, and customizable.
If you're still not lured in by the idea of a beautiful modern kitchen that's just as flexible, you will be now.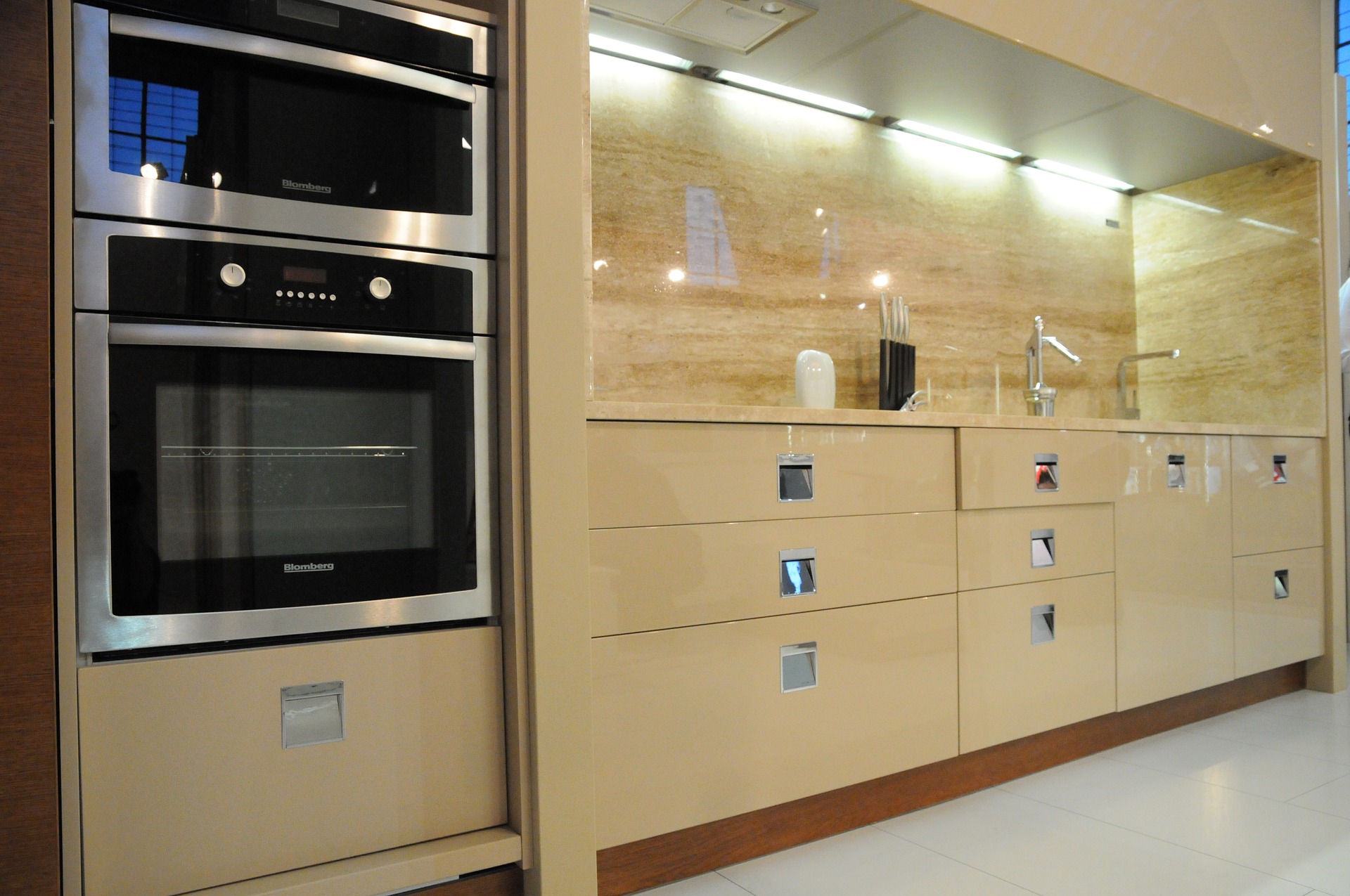 Modular Kitchen over a Normal One
A kitchen is usually the largest, brightest room or it is at least so desired. In cities with multiple storied houses, living in a small apartment doesn't always give you the luxury of a spacious kitchen.
A traditional or semi-modular kitchen generally comes installed with a granite/marble kitchen countertop with a sink. They are set in a big room as a straight kitchen. Other storage cabinets and kitchen equipment, for instance, refrigerators, microwaves, ovens, chimneys, Tupperware storage, etc. need to be purchased as required. This costs you more time for shopping as well as the hassle of proper placement. The furniture may not always match the look and feel of the rest of the kitchen or house. Furthermore, separate furniture bought without planning or a vision of interior designing will take up a lot of space. And we know all too well that a kitchen can never be big enough. It also looks out of place and therefore, tacky.
Lack of planning regarding electrical and plumbing points will also make your kitchen less functional. E.g. you need the pantry to be in a hand long distance from the stove for convenience. But now, there's no place for the chimney or oven. The electric point maybe far enough that you have to make an entire journey to open the fridge. Imagine the sink is so placed that the storage cabinets get soaked up every time.
With how much time one needs to spend in the kitchen, you are bound to go crazy. And now the heart of the home is the dreadful place that takes up all your energy by the time you finish making a meal.
That's why modular kitchens are becoming increasingly popular in houses. They are:
Functional,
Require less space and planning,
Save a ton of kitchen space,
Durable and
A sight to behold.
What do modular kitchens look like?
A modular kitchen comes in different shapes and sizes (U, L, Parallel kitchen, and Island) and hence prices.
Imagine an L-shaped kitchen (it is the most convenient in terms of space and comfortable reaches). It has a designated stove space and a chimney over it. There are an adequately placed sink and built-in space for refrigerators, ovens, and microwaves.
There are overhead storage spaces as well as bottom cabinets that are designed to hold specific items; food and spices, regularly used utensils and cutlery, so on and so forth. There may be a wine cellar/storage if needed or a wall cabinet for additional glassware and china. To make the most of the space, there may also be a corner cabinet. There is all the space you need and more. You can also have a kitchen island if it suits you.
The streamlined design of a modular kitchen looks remarkably cohesive and well planned. It is mainly a good fit for a smaller kitchen where you need as much storage as needed without taking up a lot of floor surface area.
Modular Kitchen Buying Guides
1. Space and Requirements
Firstly, you want to take an accurate measurement of your kitchen. The price range of the kitchen largely depends upon the surface area to be covered. Consider where you want your kitchen, the surface area that the kitchen might cover, and if it will work with the lighting and the dining space you had in mind. With that and a set budget for the project, think about what fits the need and demands of your family. Based on these, your designer will recommend suitable styles and types of the kitchen.
2. The Kitchen Layout and Design
Nowadays, modular kitchens come with a massive range of styles, shapes, colors, and finishes, and it can be a bit overwhelming to pick a top contender from a selection of hundreds. Consider the placement of the stove, ovens, fridge, sink, and the layout of the cabinets. Choose the design that works well with the style of the rest of your house. It is essential that you are excited to work in that kitchen environment or say it should spark joy or in you. Remember that a kitchen that's not functional will only be a wasted investment.
3. The Cabinets and the floor
Cabinets are the focal point of a modular kitchen. They are the first thing you will lay your eyes on. They need to have ample space for all your storage items so that the countertop or the island is free to work smoothly on. Think about all the things you might need to keep in different cabinets. E.g. what goes in the floor unit, the overhead units, the tall/wall cabinets or base cabinet. This helps a lot with organizing your kitchen utensils and kitchen essentials to save time.
Also, consider hanging space for pans and spoons as they dry faster this way and save space. A little extra storage space never hurts as you might have some additions to your kitchenette.
Who knew that cabinets and floor would require so much energy and attention?
4. The Triangle Rule
Designers have been using this golden work triangle rule for as long as kitchen designing has existed. What this rule says is that your cooking space (stove/oven), refrigerators, and your sink need to be in a triangular setting within 4-6 feet distance of each other for maximum efficiency while working. This works in any shape of the kitchen. Ideally, your stove should sit between the fridge and the sink, so you need a little effort to access your kitchen items as possible. Simply math!
5. Use proper materials
The materials you use for your cabinets or countertops should be well within your budget but also should meet your needs. Use high-quality materials that do not require sophisticated maintenance and cleaning. Some materials don't work well with humidity, or some require polishing in a short time.
For cabinets, consider hardwood which is arguably the best material but come at a hefty price. Plywood is the price marked according to grades. Grade AA plywood is the most expensive and has the best finishing than grades B, C, D, and E that have a lower price range. Fiberboards are the most popular among kitchen cabinets for their cost-effectiveness and lightweight. However, they aren't as strong as hardwood or plywood. Whatever you pick, veneering will give a great last touch and finishing to your cabinets.
As for countertops, granite, soapstones, marble, quartz, and ceramic surfaces each have their pros and cons. Consult your designer or the furniture provider for what might work the best for you.
6. Proper ventilation
A kitchen should not repel you with the smell of burnt meals. So, adequate ventilation and airflow system is crucial in a functional kitchen system. Research and scout for various brands that offer good chimneys that work with your needs. Consider their size, material, the filters, and the number of blowers (the more, the better). You can now have chimneys with a thermal overload protector which cut off the power supply to prevent its motor burnout.
For a more visually pleasing look, you can buy chimneys that can be built into ceilings and have no hood. Ideally, a hooded chimney can protect the wall right above the stove from smoke and grease.
A good chimney can cost you anywhere between 100 USD to over 2000 USD depending on how much you are willing to spend.
Besides all these, you can modify your modular kitchen in any way to fit more kitchen furniture and appliances as you would like. A little island with a chair to rest in between cooking or some artwork to ponder over; the possibilities are truly endless.
Granted, a modular kitchen costs more than a conventional one but the functionality of the kitchen is the most critical aspect. It gives you the best of whatever space and budget you have. If you have the means to arrange a modular kitchen for yourself, you should no debate go ahead.