1. LEDVANCE SYLVANIA 74765 A19 LED Light Bulb
SYLVANIA LED Light Bulb is a perfect energy-saving replacement for your incandescent light bulbs. Why spend so much on your electricity bills when a single LED bulb is a much more economical choice. Powered with 8.5 watts, it offers 800 lumens of brightness with a solid color temperature of 2700K and 80+ CRI for better color rendition inside your kitchen.
Unlike most lightings, Sylvania LED doesn't use harmful UV and IR radiation that can quickly fade the paint color of your interiors. Moreover, a single bulb can last up to 11,000 hours or ten years (Based on 3hr per day usage).
The LED technology ensures to cut your electricity bill by almost 85%, which means a vast load reduction on carbon-intensive power plants harmful to the environment.
In addition to offering efficient lighting, it's also perfect for working on your woodworks occasionally inside the kitchen. The 2700K provides a soft white light that enhances the natural colors, making greens, reds, and blues appear more accurately. You can additionally use this bulb for your nightstand, living room, or dining room.
This is specially designed to withstand the harshest weather, cold, and dump. It has been tested against cold weather, moisture, damp location, and heat and proved to light efficiently even in temperatures ranging from -20C (-4 F) to +40C (104 F)
Sylvania LED bulb works perfectly in all conditions. It checks all the standard parameters required from a kitchen cum workshop lighting.
Features you'll love
Reliable LED technology
Cold and warm weather tested
LED Technology
Mercury and Lead-free
ROHS complaint
Not Dimmable
Extreme Energy saver
Natural soft white
Safe-to-use
30 Days Warranty
2. Hamilton Hills LED Bulbs
Hamilton Hills LED is the higher-quality LED light bulb on a budget. If you're a money-saver, this will be your perfect choice.
The Hamilton Hills LED offers universal compatibility and efficiency for kitchens located in all types of weather.
This bulb is also quiet. The flicker-free and noise-free properties are guaranteed to offer great value for money. Thanks to its excellent luminance, you get the light equivalent of 60W incandescent bulbs with a mere 10W bulb, hence cutting your electricity cost by almost 88%.
The cool white 4000k temperature and 80+ CRI ensure your eyes don't suffer under the intense brightness. However, many homeowners may find the colder white light unsatisfactory.
Hamilton Hills uses premium materials and testing standards to ensure the LED bulb passes a rigorous 8-point inspection with third-party integrations for smoother and consistent results.
Each bulb guarantees to last 25,000 hours. Moreover, it's cold-weather tested to ensure the bulb doesn't crack or break from continual vibration. Hamilton Hill LED bulb works perfectly in all conditions.
Features
Highly affordable
LED Technology
Dimmable
Extremely Energy Efficient
Premium performance
Shock and vibration resistant
No electronic interference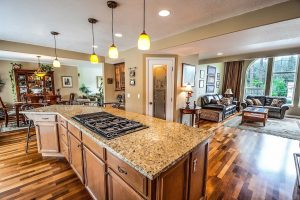 3. Great Eagle LED 23W Light Bulb
If you have an incredibly dark kitchen and your regular fluorescent bulbs don't cut it, consider this 23 Watts Great Eagle LED bulb that provides light equivalent to 100 watts and easily replaces 150w to 200W incandescent bulbs.
Less watt usage means less energy consumption. This bulb provides an 87% reduction in energy usage, leading to an environmental-friendly kitchen light unit. Moreover, each bulb lasts at least 25,000 hours.
Designed for super brightness, the 2600 lumens with 220-degree beam angle offer bright white light and clarity with minimal shadows.
The 3000k color temperature is perfect for reading and other activities, including working on your vehicle, woodwork, painting, etc., requiring visual acuity.
Rest assured, you can be guaranteed that the Great Eagle LED bulb doesn't use lead or mercury and is entirely UV radiation-free. It's safe to use in the toughest conditions and is RoHS compliant (free of ten banned toxic substances based on the European Union's Directive 2002/95/EC)
When buying new LED bulbs, be careful of cheap knock-off that isn't UL listed. Great Eagle product is stamped with UL listing that ensures reliability in design standards. In addition, the eco-friendly design ensures your kitchen remains toxin-free.
Features
Extreme Energy Saver
100% toxin and mercury-free
Non-Dimmable
Ul Listed for standards
RoHS compliant
UV and IR free
Long-lasting lifespan
Toggle switch
4. Philips LED Non-Dimmable A19 Frosted Light Bulb
Philips is undoubtedly one of the most reliable light bulb makers. The A19 frosted LED lighting bulb from Philips is guaranteed to light up your dark rooms. It's also an entirely made in USA product.
The A19 LED bulb boasts just 14 watts that provide brightness equivalent to a 100 Watt incandescent bulb. The frosted bulb ensures that the diffused light is enough to light your dark area without irritating your eyes.
At 5000K and 80+ coloring rendering index, the bulb guarantees to deliver the bright and accurate color ideal for all kinds of normal projects.
Less source wattage means less energy consumption. These Philips LED bulbs use 80% less energy and last ten times longer than most traditional bulbs.
Expect each light bulb to last a lifetime of up to 11,000 hours or ten years of light. Designed for reliability, these bulbs remain completely mercury and lead-free for non-hazard wastage.
Philips A19 frosted LED light bulb saves you the cost and hassle of frequent bulb replacement. Check with your kitchen installer before installing a Philips LED bulb that only fits standard medium base (E26) fixtures.
Features
Long-lasting LED bulb
Extreme energy saver
Low bulb wattage
Toxin-free
Frosted glass for softer light
Natural color temperature
High CRI
5. EcoSmart 60-Watt Equivalent A19 Dimmable Clear Filament Vintage Style LED Light Bulb
EcoSmart A19 LED is unlike any other bulb. It uses a mere 7-watt bulb to light up your entire kitchen space.
Don't confuse the low wattage for less brightness because EcoSmart provides 7-wattage with 840 lumens of light and 5000k daylight temperature, equivalent to the brightness of 60W standard incandescent light bulbs. It will easily brighten up any enclosed space.
The vintage filament style LED bulb boasts the classic glass bulb. It's dimmable and omnidirectional for more versatile use.
7-watt usage means less energy consumption. It guarantees to save almost 88% of energy usage to reduce your electricity bill drastically.
It's rated to last for up to 15,000 hours lifespan and is estimated to cost only $.84 per year to operate. That means you can save $87 energy bill on each bulb every year.
Moreover, EcoSmart bulbs feature shatterproof, Instant On, 13+ year life, and dimmable properties.
Features
Extremely energy efficient
Low wattage bulb
Natural color temperature
Longer lifespan
Dimmable
Vintage Style Glass Bulb
General-purpose lighting