I love Steaks. My dad loves Steaks, and so does his dad before him. If you found yourself here, then I guess you love steaks too or know somebody who does and you are thinking about gifting them a set of steak knives.
If that is the case, then welcome to this article discussing 10 Best Steak Knife Sets that you can buy.
If you are new to the game of steak knives, don't worry, I've got you covered with the "things you should know" section below to give you a general sense of what we are looking for exactly in a steak knife. If you know what you should be looking for, please skip the section and head on down to our list.
This is also an excellent time to mention that we are not paid to hype a particular brand and trash-talk others. This article is a balanced take on the enormous steak knife field, and we hope we have done our best to review the products.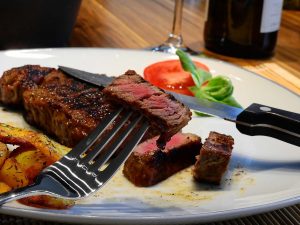 Before Buying Steak Knives
The first thing to know would be a convincing answer to the question, "Do I need a Steak Knife?"
Yes, of course, you need it. These are the knives developed for the very purpose of cutting through your steak, as effortlessly as possible and without shredding your delicious steak and letting all the juice run wild. Your simple kitchen knife is just not going to cut it. Trust me.
Then there is, of course, "Sharp Blade" as in blade must be sharp. We all get it. Another thing to look for is whether the edge is "full tang." Full tang means the blade is built from the available material, and there are no points where the parts were fused. That means better strength and less chance of having an accident.
The next thing to look for will be if the knives are stainless steel with high carbon content—the higher the carbon content, the more robust the steak knives.
We then move on to the edge. The steak knives have mainly two kinds of edges: the serrated edge and the plain edge. The serrated edge is the one with a small saw-like feature we see on the blades. The plain edge is where there are no serrated edges, i.e., the knives are just plain. The main difference between a serrated blade and a plain blade is that the plain blades need to be maintained or sharpened often than the blades with serrated edges.
The last thing to look for is the handle. This mostly focuses on how "classy" a given set of steak knives looks, but the better the handle, the better is the steak knife set's overall feel.
With that knowledge in mind, here is the list of 10 Best Steak Knives.
1. Amazon Basics Premium 8-Piece Kitchen Steak Knife Set
This set of steak knives from AmazonBasics is the favorite budget choice for lots of people. It makes a fantastic entry-level steak knife set if you are new to this and aren't sure what you need just yet.
At just 21 bucks, you get this 8-piece knife set with a standard 1-year AmazonBasics warranty.
It is made up of a single piece of stainless steel, i.e., full tang, and the handles are ergonomically designed. They are triple-riveted, so this knife set fares well on balance and strength too.
The edge is micro-serrated, so they don't need sharpening.
Pros:
1-year Manufacturer Warranty
Best entry-level price
Stainless Steel
Classic steak knife look
Cons:
Micro-serrated edges can cause the tearing of meat.
Hand-wash only
2. Bellemain Premium Steak Knife Set of 4
The main selling point of Bellemain Premium is that their blades are surgical grades. Being surgical-grade blades, they remain rust-free forever. Combined that with its sharpness, it gives a unique cutting experience at this price point.
It has a serrated blade so they need not be maintained regularly and they stay sharp for many years.
The steel is ice-tempered and manufactured primarily for cutting steaks.
Pros:
Ice Tempered Steel
Full Tang
Surgical Grade Blades
Buy-Back guarantee
Cons:
3. Chicago Cutlery 4-Piece Basics Steakhouse Knife Set
Chicago Cutlery is made by Corelle Brand, a leading knife manufacturer in America. This steakhouse knife set is another entry-level knife set marketed to folks with small families and newlyweds.
Chicago Cutlery boasts its exclusive "taper grind edge" that gives this knife optimum sharpness.
It has a full metal tang for strength and also has a triple-riveted handle with an ergonomic grip for better control of the knife.
To top it all off, it comes with a full lifetime warranty.
Pros:
Full lifetime warranty
Price Point
Carbon Steel
Wood Handle
Cons:
Not dishwasher friendly
A little large than other knives
4. J.A. Henckels International Stainless Steel 8-Piece Steak Knife Set
This Germany-based manufacturer started making kitchen knives before the 1800s. They have been around for very long and know exactly what they are doing.
This knife set is a full-tang made up of stainless steel material. The serrated edge assures that it needs no sharpening for a very long time.
It is dishwasher safe and has a lifetime warranty.
Pros:
Lifetime warranty
Full tang, Stainless steel
One-piece design
Serrated Blade
Dishwasher Safe
Cons:
The handle is small, non-riveted
Blades are small than other blades of a similar range.
5. FLYINGCOLORS Laguiole Steak Knife Set
This is the first knife set in the list that has very sophisticated looks. The Laguiole Steak Knife Set comes with a wood handle and also has choices amongst woods like Rose-wood, Olive, Rubber.
The blade is made up of stainless steel material and isn't serrated. This 4-inch blade with 2.5 mm thickness is just great for superior cutting.
The handle is triple-riveted, and the knife holds up pretty good; plus, it comes with its own box.
Pros:
The multi-choice wood handles
Easy to gift as it comes with a box
The blade can cut other types of foods too.
Cons:
Isn't dishwasher friendly
The blades aren't serrated.
Plain-blades need constant maintenance.
6. Foxel Steak Knives Set
Foxel Steak Knives set come in the set of 4, 8, or 12 pieces. Though made in America, Foxel knives are made up of high-quality stainless-steel material from Germany.
It has a plain, non-serrated edge with triple-riveted ergonomic handles. It comes with its gift box holder.
Pros:
This flexibility on the number of knives in a set
Gift Box Holder
Superior German Steel
Money-Back Guarantee
Cons:
Plain-edged needs sharpening often.
Slightly heavier
7. Wusthof 8-Piece Stainless-Steel Steak Knife Set with Wooden Gift Box
Wusthof is another Germany-based manufacturer that has made it on our list. This company, too, started manufacturing kitchen knives in the 1800s and have been ever since.
This 8-piece Knife set comes with a very decorative Wooden Gift Box that can also be used as a storage place for these knives.
Wusthof boasts the strength of its steak knives with high carbon density and is made up of stainless steel.
The blades are precision-forged and serrated.
Pros:
Makes great gifts
Value for money
High Carbon content
Cons:
There is overwhelming evidence that knives are made in China.
8. Messermeister Avanta Set Steak Knife
Messermeister is another German company that made it to our list. It is one of the most popular knives among the ones that we have reviewed.
They are famous for one thing and one thing only: The high-quality German Steel that is used gives unrivaled sharpness. These knives are built to last; hence, the lifetime warranty from the manufacturer.
It has a 5-inch-long blade, with the forged bolster gives it balance and saves you from some unpleasantness.
The edges are not serrated, but it has excellent edge retention.
Pros:
Great Looks with high-quality steel
Full tang
Pakkawood Handles
Cons:
They are not dishwasher-friendly.
Do not have a serrated edge.
9. Cutco Classic Black Table Steak Knives
Cutco is a very well-established American Company that is manufacturing kitchen knives for a very long time.
These classic black table steak knives are one of very high quality and price points too. It has Cutco's patented double D edge, which promises sharpness for years to come.
The blade is serrated, and the handles are ergonomic.
Here is the best part, Cutco provides free sharpening and replacement as per its warranty policy.
Pros:
They are very high-end steak knives with great serrated blades.
Cutco has a very generous return and warranty policy.
The long handles make it easy to hold
Cons:
The actual blade length is comparatively small.
They are a little pricey.
10. Enso HD 6-piece Steak Knife Set
These are the most expensive steak knives that we will look into today.
Just by merely looking at them, one could easily say that these knives will cost some real money.
Enso HD Steak knives are one of a kind. These blades are hand-crafted in Japan. These multi-layered blades are not serrated but have very high retention. The durability and toughness of these knives are unmatched. They come with a lifetime warranty.
Pros:
Fantastic retention and blade quality
Hand Crafted
Multi-layered blade
Lifetime warranty
Cons:
Our Verdict and Recommendation
After reviewing the steak knives above, one thing is obvious; the price range varies. So, it's tough for us to give our verdict without knowing you and your requirements.
You might be somebody that's just getting in the game and wants to buy their first set of steak knives or somebody who has gone through a couple of days more than the rest of us and make steak dinner a weekly affair.
So, feel free to choose from these beauties above. If we did even a half-decent job, you would be able to decide based on your requirements and make the best of your budget. There are no wrong answers here, and let's hope you will make a decision soon and gift yourself or your loved ones a new set of steak knives.
Some Frequently Asked Questions
Q. Who needs a Steak Knives Set?
A. Anybody that takes their steak seriously needs a steak knife. If you have friends and families coming over to taste your steak, you need a quality Steak Knives Set.
Q. What makes a good steak knife?
A. The most important thing a steak knife should have is sharpness. The second important thing would be the time and effort required to keep up that sharpness, the less, the better. Also, a good steak knife would fit naturally in the hands, and cutting through meat doesn't seem like a tough job.
Q. Are Serrated Knives better?
A. Not necessarily. Yes, the serrated blades require less maintenance, but plenty of straight-edged blades fare better at both price point and sharpness than serrated ones. It's a personal choice.
Q. How to Choose the Best Steak Knives?
A. One should be on the lookout for properties such as serrated or straight edge, full tang or not, the handle's material, the carbon content in the blade, and the company that makes the knives. After that, the best steak knife is the one that fits your requirements and is within your budget.