What is Kitchen Countertop?
Besides the obvious such as a gas stove, the kitchen countertop is the most significant part of a kitchen. The solid surface countertops also provide an easy way to clean up spills or food particles that may have fallen onto them. It can be made from granite, marble, quartz, ceramic tile, laminate wood, stainless steel, glass, plastic, concrete, etc.
Kitchen countertops aren't something we replace every year or so choosing the right structure and design of a countertop or an island will save you from problems in your day-to-day life and is a wonderful investment for your dream house. The first thing that comes into our mind when thinking about kitchen counters is granite but there are many more options available today than just one type of material. Granite has been around since ancient times and was widely used by Romans and Greeks. It is still being used today because of its durability and beauty. But if you want to go with another option then consider Corian which is made out of polymers and can be easily cut and shaped like any other stone.
The kitchen countertops come in different shapes and sizes depending upon your needs and preferences. They can be customized according to your requirements. You can choose between square, rectangular, oval, round, hexagonal, octagon, trapezoidal, diamond-shaped, triangular, pentagonal, rhombus, kite shape, rectangle, oblong, circular, semi-circular, half-circle, arcuate, parabolic, elliptical, semicircle, polygonal, irregular, curved, straight, angled, sloped, concave, convex, flat, raised, sunken, textured, smooth and rough.
Kitchen Countertop Sizes
The size of your kitchen counters will depend upon how many people you have in your home. If there's only one person living alone then he or she can use small-sized kitchen counters but if you live with more than two persons then large-sized ones should be considered. You may want to consider adding some extra storage space for all those gadgets that you need to keep handy. A good idea would be to add shelves above the cabinets so they don't take up too much room.
Kitchen countertops are generally 36 inches tall; 34 ½ inches are the floor cabinets' height plus a 1 ½ inch thick countertop. This height is also suitable for wall-mounted countertops without floor cabinets. Thirty-six inches is the industrial standard, designed so that an average height person doesn't have to bend over or stretch for the countertops.
However, for specific purposes and needs, the height of countertops can be changed. For instance, in bars, the bar countertop is 42 inches off the floor with 40 ½ inches of the base. This way, beverages can be placed on the countertop comfortably either seated or in a standing position. For people with limited mobility, countertops are made 28 to 34 inches tall so that a person in a wheelchair can easily pull up to the counter without an issue.
It is essential to choose the countertop thickness to your liking. Usually, a wooden base is installed to cover up the cabinets from above before installing the cabinets. So, the base's thickness and the countertop should add up to 1 ½ inches or whatever you'd like.
A minute yet important detail to take care of while installing a counter is the toe-rest area between the floor and the cabinet. It is sometimes overlooked but causes silly hurdles like your toes hitting the cabinet base repeatedly while working. Height of 3 ½ inches is adequate space. Ready-made counters already come with this allocated space for the toe-kick with the cabinet height reaching 31 inches. More size for the toe-kick, however, will reduce the storage area in the cabinets.
Another small detail to consider is the width of the countertop. Typically, a countertop should be 1 or 2 inches wider than the cabinet. The overhung part of the top on one side of a wall countertop and either side of an island ensures that any spillage won't damage or stain the cabinets below.
Types of Kitchen Countertops to choose from
There is a wide range of countertops materials to choose from. They come in various price ranges, strength, finishing, and textures. For residential kitchens, granite, marble, quartz, and even wood materials are incredibly desirable. Each comes with pros and cons.
1. Granite Kitchen Countertop
Granite is the first name that comes to your mind when thinking of countertops. And so it should, as it uplifts the elegance of the kitchen, giving it a luxurious and modern look with its finishing and beautiful patterns. It is heat resistant and solid and durable. However, it requires regular maintenance which includes cleaning, sealing, polishing, etc., making it more expensive compared to other options. Also, if not properly sealed, it may get stained by food spills.
However, it is also one of the most expensive materials. Knives can get blunt if continuously used on the granite surface. But if money is not an issue and low maintenance is your criteria, then granite is for you. If you want something more affordable, there are other options available such as travertine, limestone, soapstone, etc.
2. Marble Kitchen Countertop
Marble has been used since ancient times. Its beauty lies in its natural patterning and colors. Marble is a stunning natural stone, but it also comes at an exceptionally high price. Any marble slab automatically adds more beauty and elegance to your kitchen. It is waterproof and heatproof. Mostly, people only choose marble tops for a small area like a kitchen island. It also adds warmth to the room. But, it does require some upkeep such as dusting, vacuuming, mopping, and wiping down regularly. If left unattended, it could develop scratches and stains.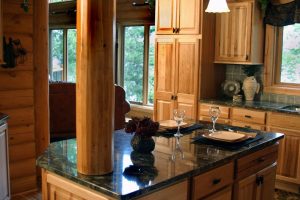 Marble is, however, prone to scratching and staining. It requires timely care/re-polish to prevent and remove stains. Prolonged exposure to acids (wine, vinegar, lemons) will wear out the polish and damage the marble.
3. Quartz Kitchen Countertop
Quartz is an engineered stone product containing at most 93 percent quartz particles and other minerals. It is highly durable, strong, and a great alternative to granite or marble. It comes in a broader range of colors and is better in terms of being non-porous and scratch-resistant. It might dull your knife due to its scratch-proof nature.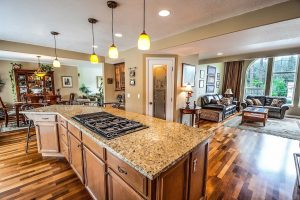 Quartz can also be damaged by heat. Besides that, it doesn't require constant attention, but all these pros come with a handsome cost.
4. Soapstone Kitchen Countertop
The most significant selling point for soapstone is that it doesn't stain. It is a low-maintenance natural stone that is easy to clean with household clothes or towels. It has remarkable resistance to heat and acids like wine, vinegar, citrus, etc.
It is a little softer than granite or marble countertops. It can get easily scratched, which is nothing a little sandpaper can't fix. But, it will require some additional care from your side. Soapstone slabs are not usually large. So, it requires seams to get installed together. It is worth more than granite and less than marble.
A little pro tip, oil your soapstone countertops every few months, so it doesn't wear out or darken unevenly.
5. Ceramic Kitchen Countertop
Ceramic Tiles give the durability of natural stones within a lower budget. They are easy to clean, heat resistant, and available in a massive range of colors and styles. You can custom design them to look like marble and granite, but custom tiles cost a little more. They might not carry the same reputation as granite or marble, but they can be incredibly stylish and the right choice for most of us. I hope this helps you! Good luck 🙂
P.S.: I am no expert on any of these materials. This was just my personal experience as someone who had used each one before. If there's anything else you'd want me to include, please let me know.
6. Stainless Steel Kitchen Countertop
Stainless steel countertops give an industrial and modern look to your kitchen. They are the best material for a kitchen that has seen much hefty work with little to no maintenance. They are strong and resistant to heat and rust, thanks to the combination of chromium and nickel. They are stainless, so spillage of a little wine is not a problem. Since they are also recyclable, they are the way to go if you are concerned with your carbon footprint.
Let's look at the cons (there aren't many). Setting down pots or dropping one on the counter can be noisy. So constant clanking is to be expected. Deep scratches and dents will need professional restoration. But, they are affordable compared to other materials—something to remember; the lesser the gauge value, the thicker the steel.
7. Concrete Kitchen Countertop
Concrete countertops are unique and give a very sophisticated and modern look to your kitchen. To be clear, concrete tops aren't the rough and patchy concrete used for civil construction. Concrete used for countertops is smooth, highly polished slabs with excellent finishing. They can be made into any color or texture and are very cost-effective. The downside? They're heavy and difficult to install. A lot of people have trouble installing them because of their weight. And, since they are porous, stains may seep through over time.
Concrete tops can be integrated with decorating stones to make them more classy and unique. Glass fibers reinforced concrete (GFRC) can also be used to make the concrete more robust and durable, and are less likely to crack.
They can quickly get stained, though. So, additives should be used to polish the concrete to make it less porous.
8. Laminate Kitchen Countertop
Laminates are another new and popular choice for countertops. They are very inexpensive, lightweight, and DIY-friendly.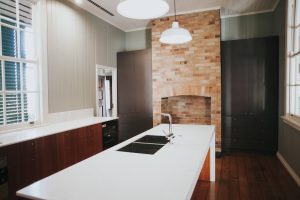 Laminates are plastic resins laminated on top of ordinary kraft paper. The decorative paint layer goes next, which is then topped by a wear layer. Finally, a transparent melamine resin layer is added that protects everything inside. In modern high-pressure laminates, cellulose is also included in the plastic resin layer, which solidifies under heat. The laminate hence becomes heat resistant. Scratch resistance can be built using protective sealants.
They come in thousands of choices since they are designed to be decorative and easy to install. They do everything an engineered countertop does and more at a limited price point.
9. Wood Kitchen Countertop
Floors aren't the only part of your house that wood can be lively on. Wood countertops give off a very rustic and warm feel to your kitchen, unlike other countertops. They are relatively cheaper and straightforward to care for. Only polishing once every year or two works. They come in various colors and finishes. Maple, Oak, and Bamboo are the most popular choices for wooden countertops.
They will get scratched over time if knives are used on them. Bacteria can also be a problem if not disinfected or cleaned timely. So, regular cleanup is required.
If neither of these works for you, you could also paint a wooden slab and use it as a countertop. It does the job done and is also very easy to DIY.
Once you have the type of countertop with its structure down, you need to know how to protect your countertops.
How to protect your Kitchen Countertops?
Seal your countertops: Many porous materials need to be polished with penetrating sealer to prevent stain and scratch and maintain a smooth, glossy surface.
Using pH cleaner: Most countertop materials are prone to damage due to acidic or alkaline substances. For that, polishing the tops with a pH-balanced cleaner will ensure your countertop stays anew for a long time.
Protection from heat: Even if your countertop material is heat and burn-resistant, it is best to avoid placing hot pots directly on them. Using a utensil stand is a good idea always.
Using cutting board: Knives may scratch the counter surfaces. So, it is better to use a cutting board instead.
Cleaning and disinfectants: You should regularly clean your countertops, especially around the sink area, to avoid any bacteria build-up. It also keeps your counter as fresh as new.
Each of these materials has pros and cons. If you are willing to make it work, any material will do. But with no effort, even the most expensive countertops will wear out soon enough. So, it is a big decision and commitment to pick one that works well with your lifestyle and needs.